Veröffentlicht am , in Sky News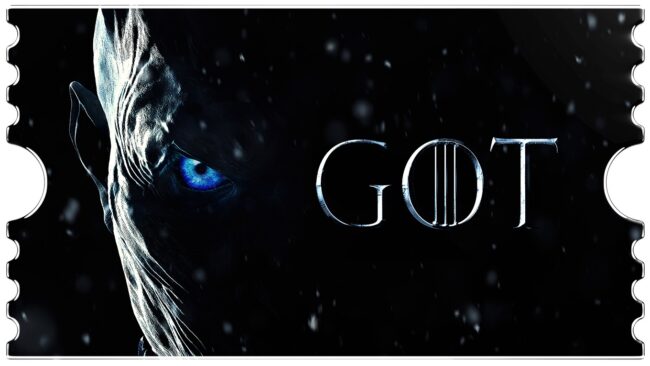 Fans von Game of Thrones können die finale 8. Staffel zum günstigen Preis live verfolgen. Mit dem Sky Ticket Angebot sind Nutzer jederzeit flexibel. Wir stellen das Sky Entertainment Ticket Angebot für Game of Thrones vor.
Game of Thrones mit Sky Ticket ab 4,99 €
Der Zugriff auf die 8. Staffel von Game of Thrones muss nicht teuer sein. Denn Sky bietet mit dem flexiblen Sky Entertainment Ticket Zugriff auf den Sender Sky Atlantic HD. Außerdem stehen die Staffeln 1-7 und weitere Serien via Sky Box Sets zum Abruf bereit. Im linearen TV wird die 1. Folge am 15. April um 20.15 Uhr übertragen. Mit dem Sky Ticket können Kunden bereits am 15. April ab 3.00 Uhr die erste Episode via Sky Ticket abrufen.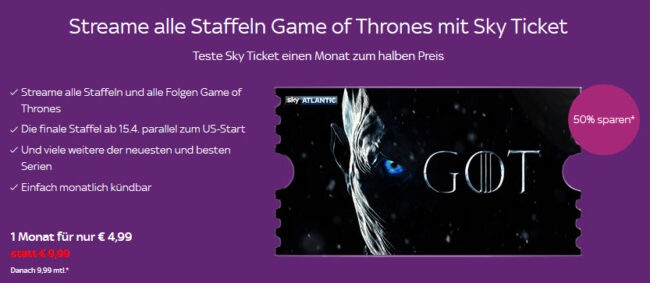 Die Kosten für das Entertainment Ticket betragen im 1. Monat nur 4,99 € statt 9,99 €. Die Abrechnung des Sky-Tickets erfolgt ab dem Tag der Buchung für einen Monat. Eine Sky Kündigung ist bis zum letzten Tag möglich. D.h. erfolgt eine Buchung beispielsweise am 14. April, ist das Sky Ticket bis zum 13. Mai gültig. Die Ausstrahlung der letzten Episode erfolgt am 20. Mai. D.h. Kunden zahlen für die gesamte 8. Staffel 14,98 € (4,99 € + 9,99 €). Neben den Inhalten zum Abruf beinhaltet das Entertainment Ticket 12 Live-Sender. Neben Sky Atlantic HD sind dies beispielsweise die beliebten Sender Sky 1, FOX, TNT Serie, TNT Comedy, SyFy und Discovery Channel.
Sky TV Stick Angebot mit 3 Monaten Entertainment Ticket
Alternativ bietet Sky noch ein TV Stick Angebot zum Einmalpreis von 29,99 €. Neben einem Sky TV Stick beinhaltet das Angebot 3 Monate ein Sky Entertainment Ticket. Danach kostet das Sky Ticket wie üblich 9,99 € pro Monat. Zudem kann Game of Thrones auch mit einem Sky Abo empfangen werden. Die Buchung des Sky Entertainment Pakets ist im 12-Monats-Abo bereits ab mtl. 12,49 € möglich.

Autor: Thomas Scheckenbach